It seems Boy Three is, indeed, my son. He has new boots and he's very excited about them. So excited, in fact, that I couldn't get him to stand still long enough to take a picture of him in them. 

Instead, he was intent on throwing Tree Fu Tom moves and generally cavorting around the kitchen. 

In the end, I had to resort to making him stand on a stool just so I could get a picture. 

The reason – he was wearing his new Splats. Splats are the more comfortable wearable alternative to sweaty, squeaky wellies for youngsters who love to jump in puddles. They could be made for him. 

His pair are in Retro Red and he is very pleased with them. 

According to the blurb, they are strong, flexible and waterproof. They have non-slip souls and a reflective trim. There is a Velcro strap to afford a comfortable fit. 

However, for both Boy Three and I the most important thing is that they are blooming gorgeous. Sadly for me, they don't go bigger than a size 1.

They are generously sized and slipped easily onto Boy Three's chunky feet. They have enough give to go on if they are slightly damp, unlike wellies. Equally there's plenty of space for socks and the fit should avoid the curse of the dreaded welly sock.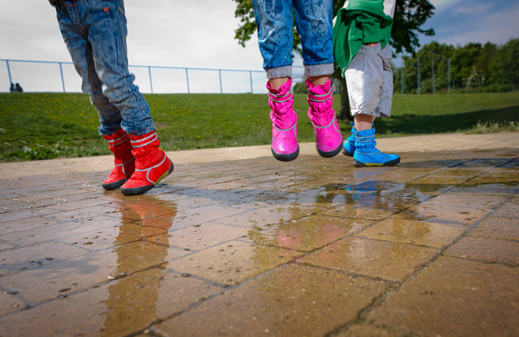 Splats RRP is £38 and they are available online or at John Lewis.