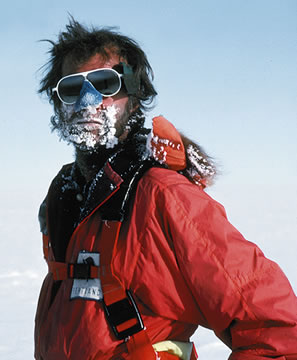 Sir Ranulph Fiennes
Mad as a box of frogs. Bonkers and batty.
It's easy to find words to describe the 68-year-old man who is on his way to Antarctica to embark on the
Coldest Journey on Earth
. 
Sir Ranulph Fiennes is attempting to cross Antarctic in winter. It will take him, and six colleagues, around six months during which it will be mostly dark and, at times, as cold as -90 degrees C. 
Crazy, yes?
I don't think so. I heard him speaking at an event to commemorate the life of Scott's right hand man
Birdie Bowers
. Sir R was a revelation. 
Charming and funny, he gave a fascinating talk about his life, his expeditions and what makes him keep on striving for new, and increasingly inconvenient, frontiers.   
You can see what would persuade people to risk life and, at the very least, digits to follow him to the actual ends of the earth. Forget James Bond, this old-Etonian, former soldier is the real deal. Action hero and heartthrob for those of a certain age. 
The double force of his determination and confidence that whatever, arguably unnecessary, goal he had set himself is one worth throwing everything at, is impressive. 
Imagine the focus necessary to rise above boredom, fear and physical discomfort in order to get where you're going. Many of us would likely nip outside saying 'I might be some time' just to end the misery of it. 
For a long time, what kept him going was his first wife Ginny. She organised the expeditions even – for one – spending six months in a frozen wasteland marking the time until he came marching home. 
Dying of cancer, she made him promise to find someone else and have children with them. Children they failed to have together. So he did, second wife Louise produced Elizabeth in 2006.
Age and parenthood might have mellowed him, but I doubt it. 
Over the years of expeditions, it must have been necessary to make peace with mortality. You couldn't put yourself in such danger otherwise, not if you have even half of the wit Sir R has about him. 
Perhaps that's what has him strapping himself into expedition gear again rather than pulling on a nice pair of tartan slippers. The end is inevitable, sooner or later, so better meet it roaring than whimpering. 
I wish Sir Ranulph the best of luck with his expedition and hope he returns to inspire another generation. Not to explore the Antarctic, but to know that with guts, self-belief and a bit of planning, anything is possible. 
PS
On the day of his visit to Inverclyde, I have it on good authority that the only requirements the explorer had for himself, was a couple of hours off in order to go for a run.