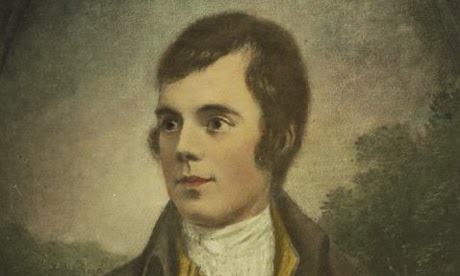 January 25 is Burns Night. Traditionally folk would get together and recite Robert Burns' poems, eat haggis and drink whisky. 

Now none of those things is wrong or a bad thing to do this day – or any day, for that matter. However, perhaps the notion could be seen as a tad old fashioned and not, maybe, the most fun thing ever. 

The thing about Burns' stuff is that you don't need to stick to tradition – you can shake things up. Burns' of all people would have encouraged ignoring the rules and doing it his own way. While they hadn't exactly invented rock stars when he was trotting about the country on his pony, he was a superstar with a sharp mind. Think Russell Brand, if he was a farmer and before he got sober.

This is his story: 

[youtube http://www.youtube.com/watch?v=qMxIBqpryG0?rel=0]
There's a lot of fun to be had with Burns – after all, he was all about fun, wherever he could get it. 

Have a look at the Robert Burns activities on the Scottish Government's website. DIY poems and quizzes. And that's before you've poured yourself a dram. 

There are a host of events around the country to mark the occasion including: 

Big Burns Supper – 24-26 January 

Live from Dumfries the World's Biggest Burns Night Celebration presenting a light-inspired carnival parade with a cast of more than 2,000. 
Explore Robert Burns' master narrative and learn how to recite Tam O' Shanter, join Linten Adie and friends from the Scots Music Group

 

for an afternoon of songs and music to celebrate Robert Burns, be inspired and entertained in a fun, interactive afternoon of storytelling or enjoy a Burns Supper in the beautiful setting of the Storytelling Café. 
It's a hilarious Haggis Highland Games and procession through the streets of the city centre, across the river and over to Eden Court.  The icing on the cake will be a traditional Ceilidh in the OneTouch Theatre.
Join us at the National Museum of Rural Life for a celebration of the works of Robert Burns and the Scottish traditions associated with this time of year.  Enjoy a packed programme featuring family craft activities, costumed characters, gallery trails, music, storytelling, theatre, and food and drink themed around some of the national bard's most famous works. 
We'll be having our haggis in Dumfries on Sunday, but I'm hoping we don't have to eat him all!