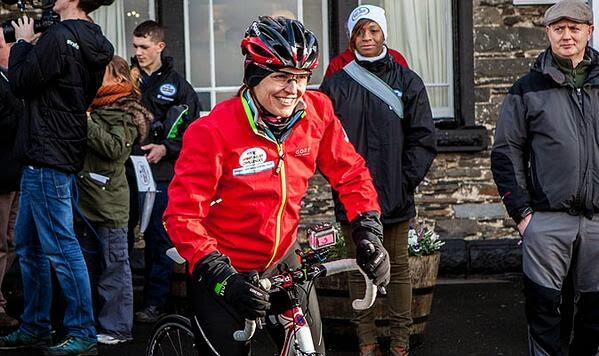 The past few days have witnessed Davina McCall collapsing, being treated for hypothermia and getting carried from a lake. This has divided the nation apparently. 

Some people are sneering at her "attention seeking" actions and calling it a "publicity stunt". Others are cheering her on every weary step of the way. Well in a way both of them are right. 

She's doing a huge Beyond Breaking Point challenge for Sport Relief. Remember David Walliams and the swimming cap, well it's a bit like that only it's not him. 

Of course, she's a wealthy and successful celebrity and she could probably put loads of money into the collecting tin and just stay at home in the warm, only she didn't. She decided that she'd carry out a publicity stunt in the hope that it would attract as much attention as possible to the cause. 

She knew it would be fairly successful because she's famous, but she also knew that it'd have to be fairly impressive to get people talking.  

So far she's cycled miles in the cold and wet, swam across Windermere and climbed some pretty big hills – one after the other. I know she's fit and she's got personal trainers,lackeys to pass her hot chocolate and lots of nice equipment, but still. She's a 46-year-old working mum of three. 

Another 46-year-old mum of three is also going to undertake a challenge in aid of Sports Relief. Only because I'm not famous I don't have to do anything nearly as gut-busting to attract attention. (Actually it's probably because I'm not as gutsy as Davina). 
However I am going to make a bit of a tit of myself crossing the Forth Road Bridge, then get very cold and wet white water rafting and, possibly if transport and childcare can be contrived, climb a mountain. 

Therefore, if you're impressed by Davina's efforts, you vaguely know me, or you just want to donate to Sports Relief then put your money here. Actually I don't care what your reason is just give us your money. 

[youtube http://www.youtube.com/watch?v=pruFtCxOPDg?list=PL5KXCGEFbuhJdq_HZKzFjGU1EJacWZVyJ]