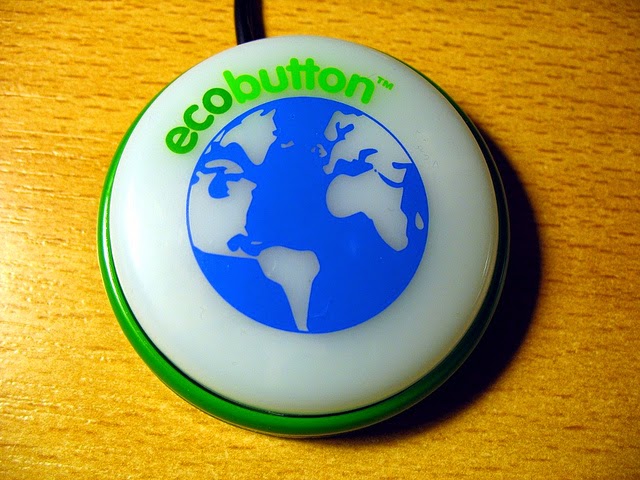 I may have mentioned that the Panther of News is to parsimony what Mo Farrah is to running quite fast. He really doesn't like to part with his hard earned, except on the essentials such as processed food and beer.
He spends a lot of time going around the house turning lights off – often plunging us into darkness – and muttering about the fact that "in his day" things weren't left on standby all the time. I tried to point out that he may well have left his Subbuteo on standby, but it wouldn't make much difference.
However, it turns out that he has a point. We do waste lots of money (and energy) through leaving our various gadgets and devices jogging on the spot while we do something else – like sleep or eat.
I tend to walk away from my computer leaving it grumbling away all night more often than not. I do intend to shut it down properly, but the reality is that doesn't happen.
So when I got offered the chance to review an Eco Button I jumped at it.
It's a genius idea. A small green (of course) button you attach to your computer that instantly puts it into the most energy efficient mode. You simply touch something on your keyboard and it springs back into life.
The screen tells you how much money you've saved by using the button that time and throughout its lifetime with you – very motivating.
It's really simple to set up and works. It saves money, reduces energy wasted and keeps stingy spouses happy. What more could you want? (Actually, don't answer that, but it's a start)
To mark EarthDay on Tuesday 22nd April SSE is giving away Ecobuttons to help encourage us all to do little things to help our energy go further.
To get your free Ecobutton all you need to do is sign up on SSE'sFacebook page. How good is that?