On the face of it an electric broom sounds brilliant, like a laundry that sorts itself or children who wipe their own faces.

And I'm always on the lookout for anything that minimises domestic effort (mine) and increases domestic bliss (also mine), as no matter how hard I have tried to change things, housework, apparently, is my department.

So I was delighted when Karcher sent me a new labour-saving device to review. Then I stopped to have a think and ask myself: what have we got here? A vacuum cleaner that doesn't suck or what? How can this be any good?

It's not that I don't have need for such a miracle. My kitchen floor gets swept every day by a brush and dustpan driven by yours truly. The resultant crumbs, peas, Lego bricks and loom bands get emptied into the bin before the brush and dustpan get put away. Not such a huge chore and much less effort than getting the vacuum cleaner out from enormous mountain of bags for life in the cupboard under the stairs.

My biggest problem with the brush and dust pan – apart from the fact that no one else in the house seems able to use it – is that it falls over and makes an irritating clattery noise several times every day.

Still, I'm an optimistic soul so I unpacked my Karcher electric sweeper in the hope that the crud that ends up on the kitchen floor would somehow miraculously vanish and I'd be able to walk barefoot free from the fear of standing on something horrible.

This may be a reasonable point to confess that I used to make Boy Three wear little baby shoes for most of his toddlerhood because I was embarrassed by how manky his feet/socks got without them.

The Karcher came out of the box resembling those (almost entirely useless, or was it just me?) Ewbank sweepers, only with a spare cylindrical brush and a cable to charge it. It also came with a bracket to neatly attach it to the wall.

Not much time elapsed before the sweeper was called into action – the result of a war of attrition between cocopops and rice crispies. I switched it on and pushed it around. Lo, the cereal vanished into the little dust holder.
Loom bands at large

[youtube http://www.youtube.com/watch?v=9QjunTHmsF4]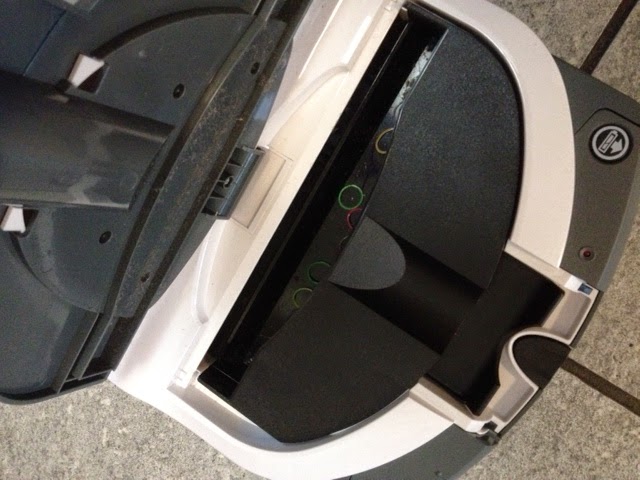 Loom bands tamed. 
Over the next few weeks, the sweeper was called into action. Here's what I've found.
It's probably quicker than old-school sweeping, but not much.

It is more satisfying than old-school sweeping, by some distance.

It doesn't fall over with an annoying clatter, particularly if you use the bracket.

Bits of fishfinger, glitter and squashed raisins don't fall out all over the floor.

The promised hour of charge doesn't last very long – however, you can happily leave it plugged in.

The alternate brush (recommended for pet hair) is also good for human hair (a recent house guest mistook it for a hair brush and was satisfied with the results).

You still have to actually push it round.

A machine with moving parts is slightly more likely to get used by boys and husbands than the traditional solution.

Conclusion

It's a good half-way solution for quick pick-ups when you can't be bothered to get your big guns out.

Karcher sent me an electric sweeper to review.