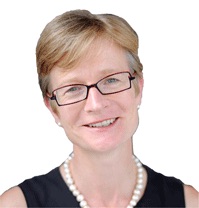 Front pages this week were gasping to reveal how Marks and Sparks' exec Laura Wade-Gery was about to go off on maternity leave at – shock – the age of 50!
Congratulations to her, marvellous new. However, while it'll shake her life to the core, I've no idea what the announcement is doing on the front pages.
Some maternity announcements have a place there, but not many. The Duchess of Cambridge, the First Minister (she isn't, but if she was, you'd  hold the front pages for her), and anyone from GBBO to permit a welter of 'bun in the oven' gag. And that's it.
I can't think of any reason why a business boss's family announcements are main-stream news, whatever age she is.
Even if she conceived naturally – and neither a sex life nor viable eggs at 50 are that remarkable – it's a big fat so what.
She might have adopted, used a surrogate or been supporting her spouse's pregnancy. Again, I say so what!
After all, and this must be the test, a 50-year-old man's paternity leave would hardly even trouble the canteen queue chat, let alone the news organisations.
Let's hope Ms Wade-Gery's child grows up in a world where this sexist nonsense is a thing of history.
---