Do you ever find that when it comes to days out, your friends and family are split into two groups? One is the crazy adventurous lot – desperate to go climbing, white water rafting and paragliding. The other group would be quite happy spending the day milling around a country park, or even a shopping centre. Your problem is that you don't fit in with either of these groups, but you still crave a fun family day out. Preferably one that doesn't involve jumping out of a plane (though I have), but also one that doesn't invoke major boredom in your children. If you're harbouring your inner thrill seeker but don't want to go the whole hog just yet, try some of these exciting family activities…

Go Ape

Go Ape is an outdoor adventure centre with thirty centres across the UK. Their bread and butter is the classic Treetop Adventure. As the company names suggests, try your hand at mimicking our ape descendants in a high-wire obstacle course. Don't worry about missing your footing – you'll be taught by experts and will be firmly secured by wires. If you have children under 10, opt for the Junior Treetop Adventure. After all, it's about time your little monkeys lived up to their names. If neither of those take your fancy, there are 60 other ways to 'go ape' across the country. Go off the beaten track on a forest segway trip, or take on their zipwire trekking adventure at the Grizedale site.

Amusement/Theme Parks

If nature isn't really your thing, stick to high-tech thrill-seeking at one of the UK's many amusement parks. Most parks have a huge variety of rides for all ages and abilities. So, if you're not quite ready for going upside down, but have slightly advanced past the teacups, you're sure to find a happy medium somewhere. With the sheer variety spread all across the country, it's easy to find the amusement park that's right for you and your family. Plus, many of them nowadays are also set nearby to other major attractions, so you can make a weekend out of it. If you want your kids to develop their logic and analysis skills while having fun, visit an escape room! Your children will think while they play, without even noticing how much they're learning.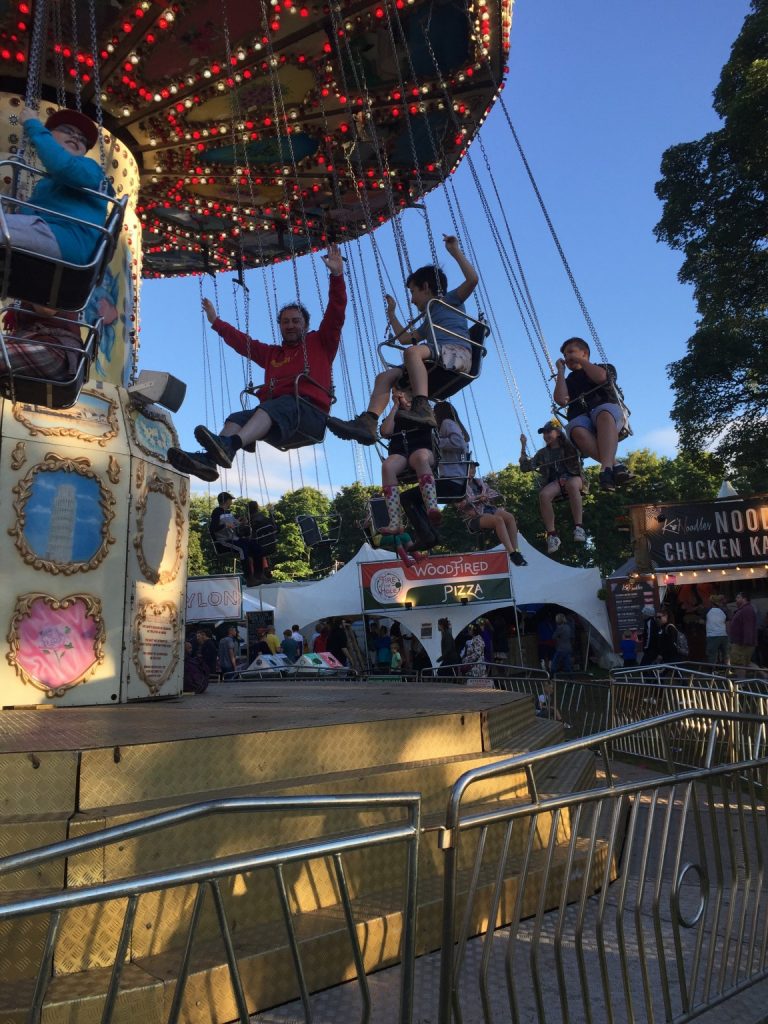 Biking

Cycling holidays are a great way to do something active with your family. They are more exciting than walking holidays, on which children can often get bored and tired, yet safer than using a motorised bike. These kind of trips and centres are all over the country, so you won't be limited by location. If you already own a trusty mountain bike, some even let you bring your own. But otherwise, there's a range of bikes to rent available to you on arrival, all of which are regularly serviced. Plus, there are ways to fall in love with cycling again, especially by making the experience a little more comfortable for you! Getting outdoors is vital for your children's health and development so a day out on the bike could do more good than you might think.

Zorbing

Now, this one airs a little more on the 'extreme' side. But, zorbing is a unique and fun activity that almost sounds like an extreme sport. Plus, it sounds very impressive when recounting the tale to other people! In short, you are strapped (sometimes on your own, sometimes with another person) into a giant inflatable ball, and pushed down a hill. If it sounds kind of dodgy, don't fear. Zorbing is always carried out by licensed professionals and your safety is paramount. If you have a large family, you could also consider Zorb Football, or Bubble Football as it is sometimes known. You are strapped into a giant zorb leaving only your legs free, so you can move. That way, you can relax in the knowledge that you little ones can run amok whilst not at risk of hurting themselves. There's nothing more padded than being encased in a giant bubble!
Image source

Indoor surfing

Escape the cold British seas and try your hand at indoor surfing. Perfect if real waves are a step too far for you, there are a number of indoor surf centres across the country that mimic the real thing.  Most feature the innovative technology that is the Flowrider. This is a manmade wave simulator that participants can easily learn to surf on. Many 'Flowhouses' also offer food, drink and entertainment that truly brings you to the heart of the Californian surf culture. If you've been desperate to ride a wave all your life but have never had the chance, indoor surfing is a great (and safe) introduction to the sport.
In addition, you can also bring your family to an indoor gun range facility, where all shooters are welcome, from families to teenagers. Explore more of some of the thrilling activities that your family can experience. Enjoy your bonding moment!!!