Wood furniture and flooring looks beautiful in both traditional and contemporary homes. It can add ambience to a country cottage or add a chic Scandinavian feel to a modern interior. Wooden worktops in kitchens look super stylish whether in a modern or classic home. And wooden bedroom furniture can add timeless appeal, an exotic touch or a wintery Alpine look. Dressing your room is also just  as important as the furniture you choose. By dressing, we mean the window treatments you choose, the artwork you display and the bedding you use. Today we're going to take a glance at how wooden furniture and window treatments can instantly update your home. And for even more ideas on home interior, follow this click.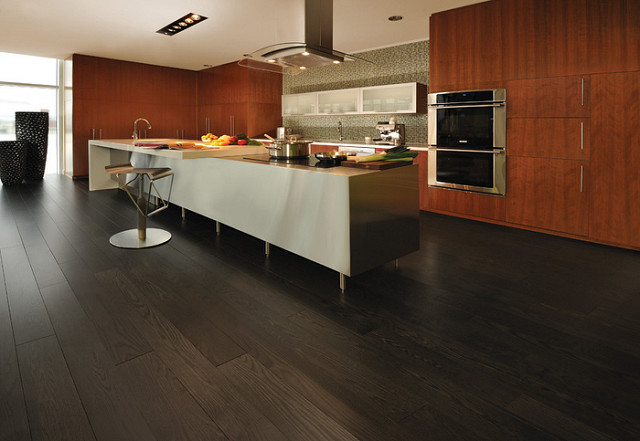 Picture from: Flickr
Wood Furniture
Oak is hard wearing, durable and looks timeless and beautiful. It has lovely open wood grain markings and can be bought in two different colorways, red oak and white oak. White oak has longer rays with yellow and brown flecks and is the most durable of the two. Red oak is similar but with a deeper reddish or pink tint. Oak furniture fits into a wide range of aesthetic designs, which also makes it incredibly versatile. At House of Oak, you can check out some of the great styles that will fit in with your living and bedroom spaces. Buy oak if you want a gorgeous American or English style interior. Or if you want to create a super chic Scandinavian or Alpine style space. Darker woods such walnut and cherry look great in more classic homes. And lighter oaks and pine look great for a fresher airier feel. Pine is also great for kids furniture as it takes paint well and can be covered in myriad colour stains. Perfect if you want a quick colour update for their rooms.


Picture from: Pixabay

Wood Floors
Choosing solid wood floor is a great investment for your home. It has unwavering quality and will look both contemporary and classic at the same time. It can be left bare or dressed with beautiful rugs. Dark and grey woods work particularly well if you want to create a sleek and stylish space. And more natural shades of brown look wonderful in traditional and period properties. Hardwood flooring is also a great choice for the home if you are interested in sustainable materials. Hardwood flooring will take centre stage in your home and it is a showstopping investment and an instant update for your interior. Oak flooring is very popular as it stains well and is durable. However cherry, maple and ash are also popular too. Choose wide or narrow planks depending on your preference. But keep in mind that wider planks look more contemporary. On the other hand, if you have an Acid Brick flooring that needs repair, you may want to consider hiring a dairy brick repair contractor immediately.


Picture from: Pixabay
Window Treatments
A really easy way to instantly update your house is to change your window treatments. Curtains take a lot of beating and wear and tear so revive your house with new ones. If you want to create a modern and seamless feel in your property you may actually want to choose plantation shutter instead. These have become increasingly popular in recent years and look super luxe. If you do decide to go for curtains, though, think carefully about the fabric. Natural linens, silk and cotton look plush in an array of opulent colours. And always make sure they are lined for extra quality.