Finally, it is starting to look like winter's gloomy old rags are being folded up and put away for another year. Spring is here: the snowdrops have been joined by crocuses and daffs.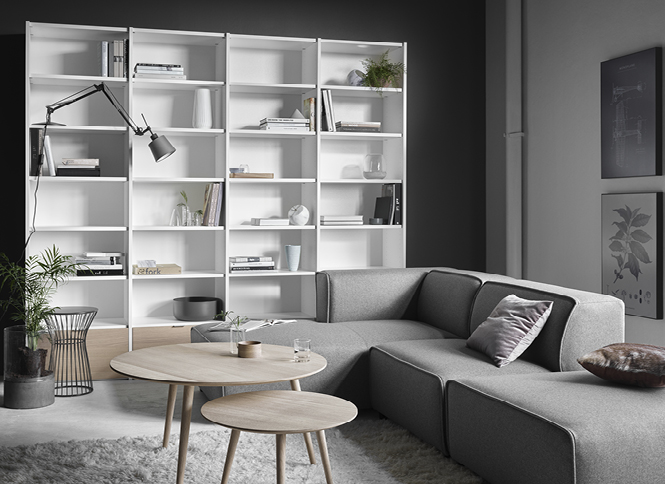 There's an urge that comes at this time of year. If it didn't involve so much housework, I might embrace spring cleaning.
I get the feeling that I want to get rid of all the fluff and clutter and let the sunshine in. It's so refreshing. You could say that if we've spent all winter in hygge with our candles and socks, then this is unhygge time.
(I just googled and the antonym of hygge is uhyggelig which means scary, so probably not that then.)
Nonetheless, the answer might lie in something from Denmark. It's called BoConcept which is a shop packed with designer furniture, interior design stuff and so much style it's positively icy with cool. And, as luck would have it, a branch has just opened in Edinburgh's Rose Street.
GO and have a look and you'll see what I mean.
This sofa is as fresh and clean as the new shoots that are appearing everywhere.
Put it next to a funky footstool or ottoman (ottomen, or even ottowomen) as BoConcept has it. I'm really not clear on what the difference is.
How about giving your working life a makeover? I would get so much more done if I had this desk.
Shut up. Of course, I would.
This stuff is gorgeous and I'd love to have it in my house. Only first, I have to get to grips with the spring thing – cleaning. Or more accurately decluttering. BoConcept, any chance you can offer a BoClutter service where you bring a very stylish skip and someone ruthless to chuck all my garbage into it.
Meantime, I'll just gaze at the loveliness of the designer furniture and dream of the wide open spaces that might yet happen in my house.
It might well be that BoConcept is the springtime version of cuddly, cosy Hygge.