When you have worked in an office for a while, you get to know all your colleagues pretty well. When someone decides to move on to greener pastures, or they get to retirement age, there's an inevitable brown envelope whip round the office for a little something as a parting gift. Do you have to chip in and donate something? No, of course not, but doing so can sometimes get you climbing the ladder at work a lot faster.
Giving gifts at the office is something that happens often, but when it comes to a colleague leaving, the card, gift and party are all something that everyone should be involved in. It's not just choosing the right leaving gifts, it's knowing that people are bound to notice if you don't chip in for something as big as retirement. There are many reasons people don't get involved with gift donations and it can be anything from paying bills to forgetting their wallet that particular day. The thing is, there are so many reasons you SHOULD get involved in being generous for your departing co-workers and we've put those reasons together for you:
It's Fun! Work parties a great way to make the office feel friendlier. You get to enjoy time with the people you spend most of your week with and get to know them on a more personal level. It gives you a chance to talk to management and get noticed in what you do, as well. Work parties can be fun and they aren't just the place you get to see that Tag Heuer engraved watch get handed over. You can also have a little fun by helping to choose the best gift – whether that's a personalised candle or a tankard with etching on the side like this one.
What About You? One day, if you're still working for the same company, you might retire from there. Surely you'd want your colleagues to chip in for something for you to acknowledge your service and time spent there? A nice send-off when retiring at the end of your working life is a nice gesture and can make you feel fantastic about yourself. The fact you would know that the whole office took the time to find you the perfect Fendi purse or a hamper full of your favourite tipple would mean something to you. It may not be your turn just yet, but making someone else feel great is going to go a long way for you.
Get Noticed. When you participate in company events, even the simple ones like pitching in a few pounds for that personalised stationery, people notice. You may not know the person leaving too well, but the leadership team are always paying attention to those who are generous. You don't have to donate very much if you can't afford to, but it's the act of donating at all that shines a light on you. We spend most of our week at the office with a team of people we often don't get to know enough. Taking the time to get involved in celebrating their time with the company is a great way to form bonds that you wouldn't otherwise have formed.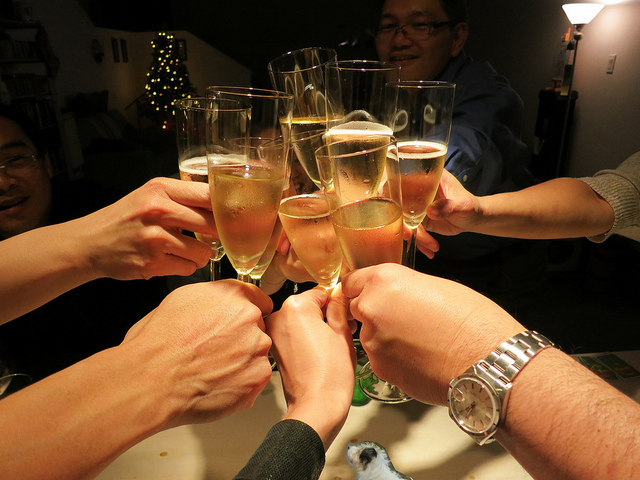 Image Source
Giving leaving gifts isn't just about the physical present. The words you write on the card you sign and the things you say when saying goodbye will be what sticks out for your colleagues. Always encourage the person organising the gifting to choose something personal instead of an envelope of cash. While cash is handy, it's rather impersonal and doesn't have that same warmth that a personalised gift does. Hopefully, you'll know your colleague enough to choose something that will have meaning.
Group gifting should always be the case in an office. If there are 30 people in the office you work in, and everyone chips in £5, then a really lovely gift, card and party can be paid for by everyone, which saves favouritism! If everyone is pitching in, then it truly is a team effort. Always choose wisely when you choose a personal gift – gag gifts aren't really a smart thing to do in somewhere as professional as the workplace. While you're at the party, make sure you warmly congratulate your colleague on their retirement or new job. Your words can sometimes mean more than any gift and even if you aren't particularly close to your colleague, keeping bridges from burning is important!