The menopause is often thought of as 'the last taboo', trailing behind many other health and wellbeing issues when it comes to something that is spoken about openly. In fact, the menopause is something that up to 50% of UK women are too embarrassed to talk about at all, even with their GPs.
But it is imperative that we talk, that we open the dialogue surrounding the menopause; it's something that every woman will experience and we need to create greater visibility surrounding the symptoms and the triggers of the menopause, some of which I want to discuss in this blog post. The menopause can be a distressing time for women who aren't sure what to expect from their symptoms and aren't certain which triggers will set them off – women need to be equipped with the knowledge that will help them manage the symptoms and the triggers during this time of life.
For example, we all know that Christmas is one of the most stressful times of the year, but did you know that for menopausal women, it is also one of the biggest trigger times for symptoms of the menopause – in particular, the hot flush?
It's very common for women to experience a higher frequency of hot flushes than normal if they are exposed to increasing levels of stress, as well as other triggers, including drastic changes in temperature or consuming greater amounts of alcohol or coffee – all triggers which are prevalent during the festive season.
The stress of Christmas shopping, meal planning and sticking to a hectic pre-Christmas social calendar – never mind the day itself – these alone can be hugely demanding for women who feel the responsibility is left to them to ensure that everyone else is having the most wonderful time of the year.
Stress is actually one of the major factors in triggering hot flushes; the release of adrenaline into the bloodstream causes your heart to race and blood flow to increase, leading to a subsequent increase in temperature. A hot flush is your body's response, its attempt to cool the body down. But a hot flush can be overwhelming in its intensity and leave you sweating and even shivery afterwards, as your body attempts to bring your temperature back to a normal level.
Alongside stress, there are other factors that come into play when it comes to bringing on a less-than-festive flush. The extremes of temperature that come with dashing in and out of shops, or in and out of the kitchen on Christmas Day itself, contribute to kickstarting a hot flush. And while we're all so busy, you might not think that there's any harm in consuming an extra cup of coffee to give you an energy boost or indulging in some wine with friends in the run-up to December 25, but caffeine and alcohol are both hot flush triggers too.
But you needn't think that your entire social schedule, shopping routine and gift list has to go out of the window this Christmas; in fact, I firmly believe that making small lifestyle changes this Christmas may help to reduce stress levels and keep those hot flushes at bay. In addition, utilizing CBD, like the hemp flower online, can also be extremely beneficial in helping you keep your holiday spirit up. It's up to you what strength of CBD oil you choose, and there are a number of factors to consider when you are choosing CBD, including weight, and the fact that the effects are not always immediately noticed, so it is advised to start off with a low dose and work your way up.
My five top tips for surviving a menopausal Christmas: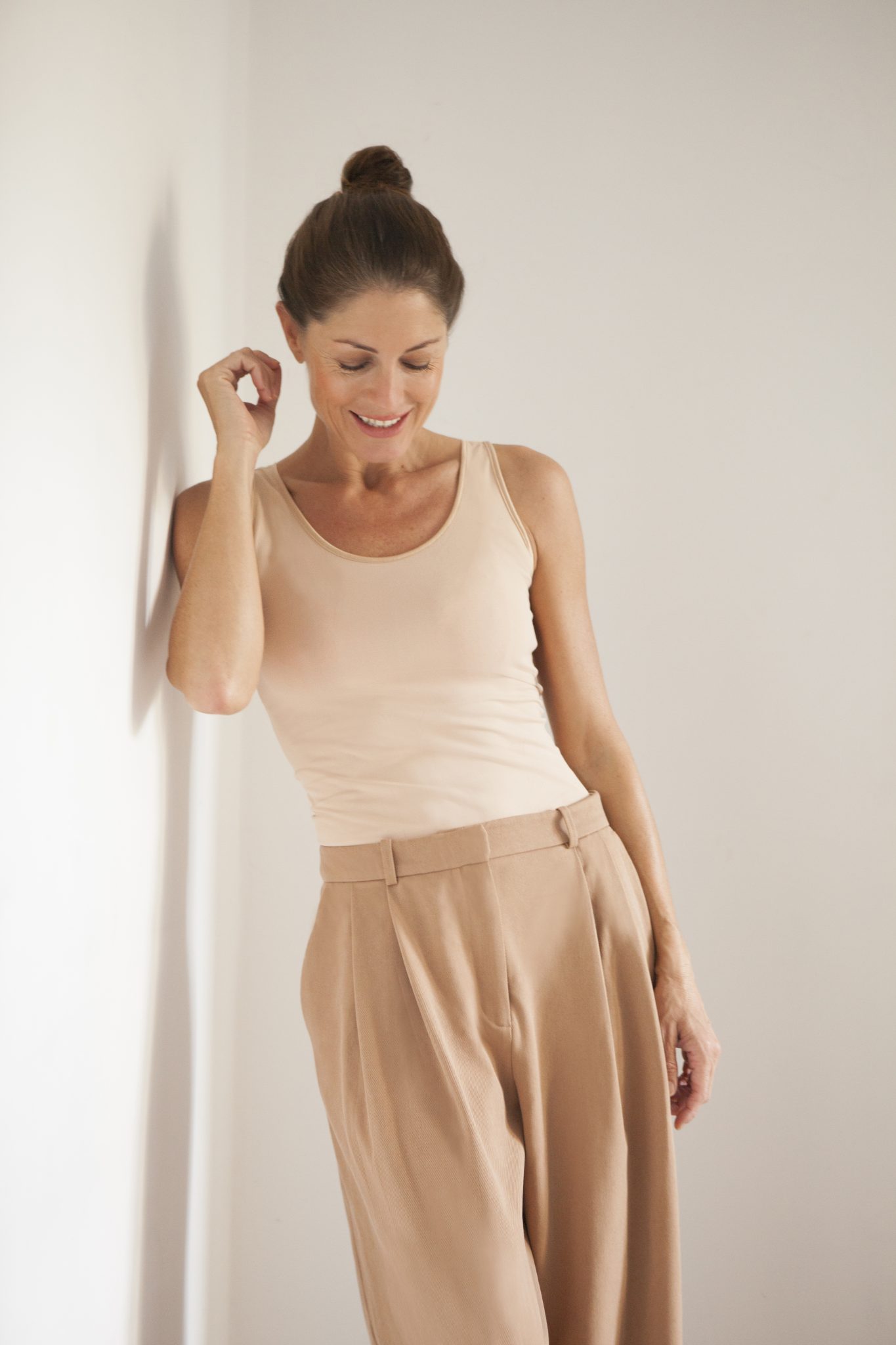 Wear temperature-control undergarments
This is such a simple change to make, yet it can really make a big difference. There are some fantastic menopause-specific undergarment ranges on the market, using temperature-control fabrics to regulate body heat, reduce the awful shivers post-flush, and wick away moisture to avoid embarrassing sweaty situations too. These garments are designed for wearing underneath your clothing during the day, so you can still wear your regular clothes and get all dressed up for the festive season, but be confident that you can remain in control underneath.
Layer up your clothing
Layering is the ideal solution for helping to regulate your temperature when you're out and about. Layer a temperature-control tank top with a t-shirt and a cardigan, rather than wearing one bulky jumper, to help you better manage your body's response to changes in temperature. Choose cosy items that are quick and easy to pull on and off, depending on how hot or cold you feel.
Swap your coffee for a matcha tea
The caffeine in your regular teas and coffees stimulates the central nervous system, accelerating the heart rate, the blood pressure and the body temperature – all of which can bring on a hot flush. But just plain hot water can induce an episode, so I recommend trying something cooler to start your day. A bottle of cool iced matcha tea a good choice, as it's cool and refreshing, with very low levels of slow-release caffeine, and an incredible level of antioxidants that help to keep the body healthy – especially important in winter when germs are rife!
Reduce your alcohol intake
Yes, this can be very tricky around Christmas, but if you find that a glass of wine brings on a sweaty, shivery flush, it's best to find an alternative. There are plenty of non-alcoholic options in the supermarket if you don't want to feel like the odd one out without a glass of something with dinner, or you can bring your orange cocktail to the future with Orangina. Pomegranates are credited with high levels of oestrogen and antioxidants that can help ease the symptoms of the menopause, as well as rich levels of vitamins C, A and E, and folic acid. Make yourself a deliciously festive, non-alcoholic cocktail this Christmas, using a plentiful helping of pomegranate juice and seeds, so you can still join in the festivities but soothe your symptoms at the same time.
Limit exposure to extremes in temperature
If you can stay indoors and do your Christmas shopping online, you might find it much easier than dashing from the cold into a store with the heating ramped up and back out again. Extremes in temperature can bring on hot flushes in a flash, so if you can avoid exposing yourself to them in the lead-up to Christmas, you might find that you have a far more comfortable experience Christmas shopping. If you do find yourself getting hot and flustered whilst out and about, try a cooling face mist with rosewater to soothe and refresh the skin, and help you to cool down.
My Top Suggestions to Help You Through the Menopause this Festive Season:
Become temperature control garments (webecome.co.uk)
OMGTea Iced Matcha tea (omgteas.co.uk)
A pomegranate 'gin' cocktail, made with Pom Juice and Seedlip non-alcoholic spirits
Try doing your Christmas shopping online, with stores such as King & McGaw or Trouva, to help you find gifts without the stress!
Spritz your skin with Aster & Bay's Rosewater Mist to cool down and refresh (https://www.asterandbay.co.uk/products/rosewater-mist)
Dr Rosy Fazzi MBChB, MRCGP, is the head of the Women's Health department at Dr Nestor's Medical Cosmetic Centre in Edinburgh (www.drnestor.co.uk). Dr Rosy is a specialist in women's health issues, and is passionate about treatment for management of intimate female problems at various stages of life. Dr Rosy understands the mental and physical impact on women that can result from menopause and childbirth; she is enthusiastic about empowering women, with options to restore their sense of intimate wellbeing and general health. Dr Rosy offers bio-identical hormone replacement therapy, which is an alternative to traditional HRT and can help to ease the symptoms of the menopause.
You can book an appointment with Dr Rosy by visiting www.drnestor.co.uk
Find out more about Become by visiting www.webecome.co.uk