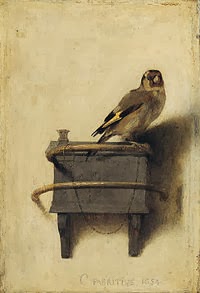 When you think of hot literary heroes, perhaps the first fellows to come to mind are the obvious ones – Mr Darcy, Rhett Butler or even Christian Grey if that's your bag. 
But you can keep Soggy Shirt, Don't Give A Damn and Captain Cable Tie, I've just fallen for a new leading man who leaves the others in his smouldering wake. 
Boris from The Goldfinch (Donna Tartt) is my new favourite book bloke. I can't decide if it's his brooding Russian intensity, his reckless impulses or the depth of his loyalty, but Boris is definitely the kind of big-hearted hero you'd love to meet in real life even though he takes unreliability to an art form. 
However, should Boris be unavoidably detained – probably by dubious European 'businessmen' – then there are some others who could stand in. 

Jean-Benoit Aubery from Frenchman's Creek (Daphne Du Maurier) a raffish and dangerous pirate who turns out to be educated and considerate as well as a dab hand with a frying pan. 

Cormoran Strike from The Cuckoo's Calling (JK Rowling) manages the difficult skill of being dashing and one-legged – I mean from a practical point of view rather than a literary one as I imagine it's quite hard to dash on a false leg. He's the dishevelled detective created by the Harry Potter author. Oozes sex appeal and some of the fumes from last-night's excesses. 

Atticus Finch from To Kill A Mocking Bird (Harper Lee) moral right-ness is almost as attractive as bad-to-the-bone roguishness. Certainly it is in the case of Atticus who fights harder than any action hero for what he believes in. 

Carlisle Cullen from the Twilight series (Stephenie Meyer) beats the twinkly, but ultimately rather dull, Edward hands down. Not only has he got an impeccable bedside manner, but the combination of blood-lust and wisdom makes him the vampire with most va va voom. 

Who's your between the sheets (of a book) leading man?