It's May the Fourth today. This, apparently, means something to those members of the population who have seen any of the Star Wars films. I haven't but that doesn't mean I'm not aware of the general idea – glow-in-the-dark swords and creatures too clever to bother with syntax. What it means to me, is an excuse to bring you this photo again: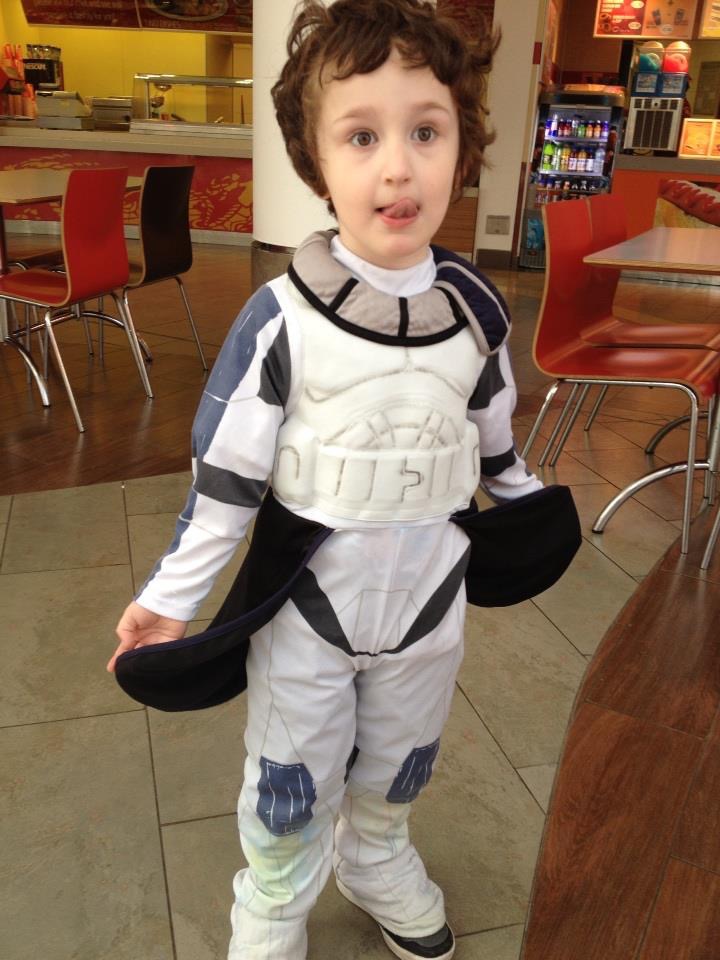 That was a few years ago and this lad is now powering his way through P5 and making me very proud.
Yesterday, he told me, with much enthusiasm, about his end of term project. Everyone in the class has to prepare a lesson – of up to an hour – to deliver to his or her peers. One of his mates, he said, was going to teach everyone some much-needed additions to their repertoire of annoying noises. Something to look forward to.
Creative Boy Three, however, is going to teach 'mouth writing' – a phrase that conjured images of teeth clamped onto Biros. Not so, what he wants is to explain to his chums the tricks of capturing natural speech in writing. "Just like Diary of a Wimpy Kid," he said. Good luck, son.
What have I learned this week?
Audiobooks can mug you…
I play a form of audiobook roulette and sometimes it can be a blindsiding experience. It works like this – I subscribe to a daily deal email and I buy all that I fancy or think I should read (this is why I currently have Black Beauty, The Brothers Karamazov and Spark Joy on my to-listen-to list). Then, cos I like an edge of danger, I pick at random from the bottom of the heap. This week, it was A Monster Calls, which is why I was to be found sobbing as I sorted laundry from the dryer. It's an exquisitely excoriating guide to grief. Isn't it funny how you feel better after a 'good' cry?
All hipsters look similar. Recently I was pointed in the direction of the spectacle retailer Iolla, in Glasgow's trendy West End. Needing new varifocals for me and prescription shades for Boy Two we headed into the big smoke. Imagine Boy Two's mirth when I mistook a passing chap – tall, bespectacled, bearded and wearing one of those shirts – for a member of staff. Flipping heck, they all look the same – especially when you need a new pair of specs.
Anyhow, my new glasses arrived and I love them. How trendy am I? (Note: that's rhetorical)