It was one of those half-hearted attempts to encourage wholesome activity in Boy Three. A pathetic plea to do something that doesn't involve doing battle in cartoonish worlds, listening to shouty American YouTubers, or both.
"Draw me a picture. Just, you know, how you feel, or something… " and off he went.
I'd forgotten the mission by the time he presented me with this: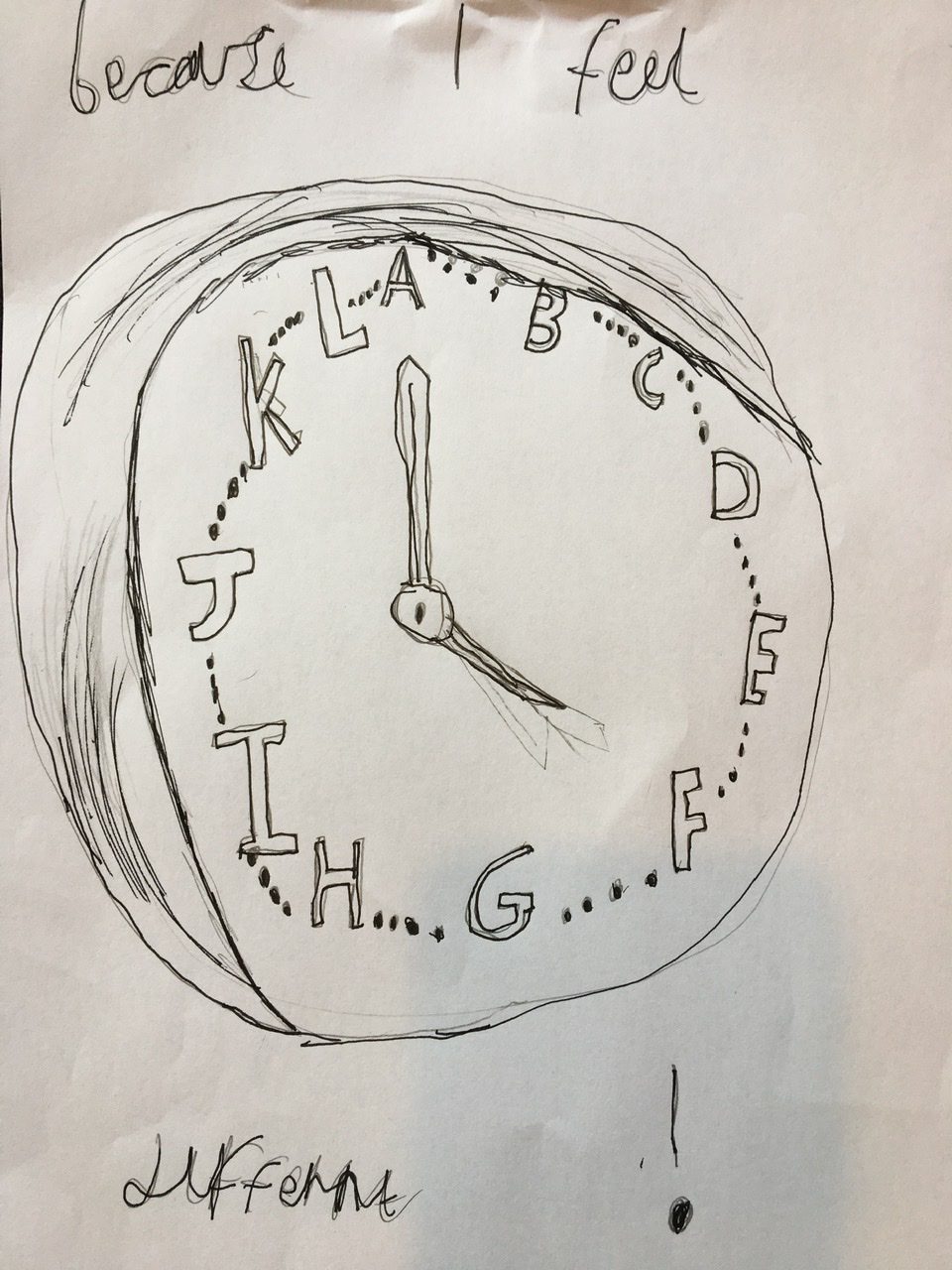 Yikes.
He beamed. I didn't…
My heart hit the floor where it bounced around with the guinea pig poo, discarded socks and the rest of the detritus of domestic failure. My poor boy. Surely, all we ever want for our kids – for all the people we care about – is for them to fit in, to run with the pack where it's safe. After all, difference is what singles you out, sets you apart, for struggles, toil and trauma. Tall poppies and all that.
I've expended buckets of precious energy in trying to blend with the all the women I see – the wives, mothers and employees, the mates and the other good eggs. I frequently gaze at them and wonder how they do it so well when I find much of not just difficult, but pointless. But that's what you do, right? Ignore the voice inside you, the one that asks whether something is right for you while you get on with doing your best. And you do that with all your might.
And yet, I know, I really do, that listening to your own mind and speaking your own truth is the only honest way to deal with differences and, possibly, find out that there are lots of other similarly different people.
Braced for Serious Conversation, I cleared my throat. "What? That's lovely, but erm… How?"
"What, mum? You said to draw what I feel. So I did."
Pause. Gulp.
"OK. Well done. But, tell me, is this 'different' good or bad?"
"It's fine, mum. " Here he patted my arm. "I'm different but that's OK because lots of other people are different too. I happy with that."
"Oh. Right."
"You said it yourself, mum. It's more important to be yourself (as long as you're kind to other people and animals) than it is to change to be like the others. And, you said, that being yourself is the best way to find your tribe."
"I did?"
"Yes."
Then it's time I put my own advice into practise more often, because today's lesson, apparently, is that I do know the answers but that I need to keep reminding myself of this as often as possible.