Here we are in the quiet between the unwrapping and the overeating. And as the rest of the world seems to feel compelled to write a festive message, usually, because I'm contrary, I don't bother.
Instead, I'll tell you a story.
Once upon a time ((the day before) yesterday), a dashing prince (the Panther) and a dazzling empress (me) ventured out from their Palace of Bundance (extended semi-detached 1970s house) on a daring quest (to get the last Christmas stuff) to a dangerous land (Tesco). With their general demeanor of courage and heroism, things were going rather well (they had found all the things on their list and were still talking to each other) when they entered the darkest bit of the forest (the last aisle where the miscellaneous cheap things are).
(Insert interlude where people ate too much and spent more than three hours playing Risk and returned to this post on Boxing Day.)
And, so our intrepid duo turned the corner and came face to face with….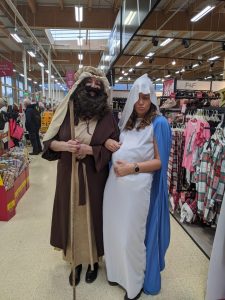 Which was a little unexpected. And the prince and the empress looked at each other and mouthed: 'WTF?'
Obviously, because it's 2019 the astonished pair seized their mobile phones and made ready to offer this vision up to social media. 'You'll never guess who we bumped into at the shops. At least they didn't bring the donkey in. Hope there's #roomattheinn. #everylittlehelps.'
There was a commotion when a small child was encouraged to pat Mary's implausible bump. 'That's baby Jesus in there.'
'Where is it?' the patting intensified.
'Well, he hasn't been born yet, has he?'
While the child didn't mouth 'WTF?', his head was at exactly the same angle that the prince and the empress's had been moments earlier and his eyes were wide.
Then the Panther (who has moments of great wisdom) said: 'You know. No one would bat an eyelid if it was Santa.'
And he was right. It shouldn't be so bizarre to be reminded about where Christmas began, particularly not in the cavern of consumption that is the modern supermarket.
So the godless pair took up their spare roll of bin liners and their unwaxed lemons and returned to the Palace determined to hold on to the other important things, such as family and love, gratitude, joy and finding contentment in the moment.
Merry Christmas.