If you're lucky enough to be building your own home, then you're obviously going want to design a home that will work for you and your family as it grows and changes. Design and decor with growing children can be a challenge, both in terms of the space they need and their changing needs as they get older. Here's how to create a home that will work for your family as they grow up.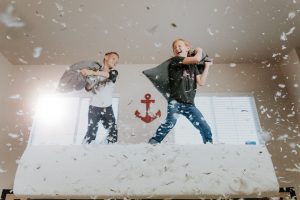 Image – free for commercial use
Residential architects can help you to make the best design choices during the build process that will make sure your home keeps working for you. 
Build with privacy and safety in mind. A home should be a place that keeps your family safe, and you can build that right in. Start with the entrance to your home. Lots of people come to the door, from visiting friends to door to door salespeople. You probably don't want all of those people to get a clear view into your home, as this gives them a good idea of where valuables might be. Build a small entrance hall to shield your home when you open the door. Only those you invite in will see any further. Consider how easily you can supervise the children too. Can you see out into the garden from the rooms you'll be in most? Can you hear them in play spaces from elsewhere in the house? If there was an accident, how easily and how quickly could you navigate your home to reach them? 

Make it easy to spend time together. If you can, build with multi-functionality in mind. This makes it easier for the family to be in the same room, even if they're doing different things. This can be as easy as adding a play space and a study nook, so the children are nearby playing or studying while you're cooking dinner or doing other household chores.  

Build for durability. Whether they're stampeding through the house with muddy shoes, or jumping on the beds, kids can be tough on a home. When you build, try to keep this in mind, so you can choose building materials and furniture that are hard-wearing, long-lasting and easy to clean.  

Think about where the bedrooms need to be. If you'll be living in your home for years to come, you need to remember that your children won't be young forever. If you currently have toddlers, it's natural to decide to put their bedroom right next to yours so you can hear them if they need you in the night. However, when they're 18, they probably don't want to be as close as they once did. Put the main bedrooms slightly away from the master bedroom and put in a buffer of a study in between. When you need it, the study can be used as a nursery and then swapped back when the child is ready for a bigger bedroom and more privacy. You could add a small room leading off your bedroom to be used first as a nursery, then turned into a dressing room.