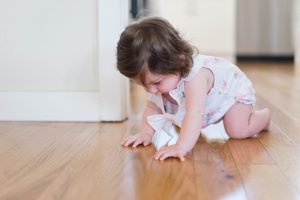 Under-floor heating is something that has grown in popularity significantly in the last ten years. With the modern age moving towards clean spaces, many of us are preferring the neatness of under-floor heating tucked away as opposed to unsightly, bulky radiators. Choose your favorite herringbone flooring to match your aesthetic at home.
Although you might have thought that it is a modern marvel, it was actually invented by the ancient Romans with them using it in their bathhouses. With many modern homes having under-floor heating installed, here's a look at why you might like to go for it in your home – you'll never get cold feet about buying flooring ever again… If you need to buy a small heater or radiator then you can also find lots online for cheap prices online so you can easily heat your home easily.
Energy efficiency
Generally, under-floor heating requires less energy to run than traditional radiators. This is because it only needs to run on a temperature of 29 degrees Celsius or less in order to warm the room – therefore consuming less energy and lowering your bills. Even though it is expensive to install, it can often end up paying for itself as you'll almost certainly notice a difference in your heating bills.
Ease to run
Once installed, under floor-heating needs virtually no maintenance to keep it running efficiently. The warmup controls will ensure that your heating runs in the most profitable way possible. You can also decide when your heating comes on and off, giving you the option of saving on heating expenses when you're not in need of it.
Works with most types of flooring
Of course, as brilliant as under-floor heating is, it isn't compatible with all types of flooring. This is why before you set your heart on this fantastic invention, it's important to make sure you have the correct flooring down and you do your research. For example, solid wood is not able to cope with the fluctuating temperatures, with warping and shrinking under the heat. With many of us enjoying real wood, it can be disappointing to hear that your favourite choice isn't compatible with this feature! However, engineered hardwood looks exactly the same as solid and is compatible with under-floor heating. Other materials such as laminate and Luxury Vinyl Tiles are fine it too, both of which come in very convincing imitations of real wood.
Safety, appearance and comfort
Yep! You could even say that under-floor heating is actually safer than radiators. Imagine this, you have a few old radiators in your home that are a bit questionable. It finally falls off the wall after years of your kids bumping into it during playtime. We don't want to scare you…but it can happen! There're also no sharp edges with under-floor heating or the danger of burning yourself on hot metal – the heating system is safely tucked out of the way!
In terms of comfort, what could be nicer than having warmth coming up from beneath your feet? As previously mentioned, all the space your radiator was formerly taking up will be spare. Not to mention you have more wall space too, which makes decorating even more fun!
Of course, we know that there are probably many of you that want under-floor heating in your home, but the disruption and price of having it installed is just too off-putting. Even if you're looking at purchasing new flooring, it is worth bearing in mind this feature as you may decide to install it a few years down the line.