I rather enjoyed Last Year's Girl's take on her busy week. Probably more than her, as it seems like it was a little traumatic.
Anyhow, it gave me the notion to do something similar.
At the mercy of ScotRail a couple of times a week hasn't turned out too badly. Although flat and comfy shoes are a must as sprinting seems essential.
Nasty tissue and ring-pull aren't mine. They're just part of the bits of public transport it pays not to think about too much.
Wouldn't trains be easier to clean without fabric and carpets?
I'm back to early-morning exertions. A gentle jog has become part of my routine although the past few weeks I've been slowed down somewhat by a nasty cough. You should also probably know that I never run up (or down) these steps. I walk and even use the barrier as an excuse to stop and stretch.
Boy Two sticking his grin into the shot of my deeply comfy shoes. That was a working at home day with the shoes at the end of leggings and a tunic.
Another day, another pair of comfy shoes. Bit of a theme. The bigger, bluer shoes belong to Boy One and we were grazing at the Lomond Shores Food Festival.
It has been suggested that my shoe choices aren't the most grown-up. It's probably true, but I don't care.
Running around again this time on a sunny morning when the shadows were still long.
This time I was on the platform with enough time to snap a shot of my shoes again. I was clearly having a (navy) blue day that day and, hopefully, these shoes alleviate the boredom.
My current favourite footwear on the steps of a magnificent old mill building. Makes me feel very work-womanlike.
Rocking the modern bicycle clip look. What are those things called? Trainers on for a wee trip to Bute for a bike ride.
The only beige I own. Chosen for comfort and usefulness. Do you think anyone will notice that dirty spot on the left foot?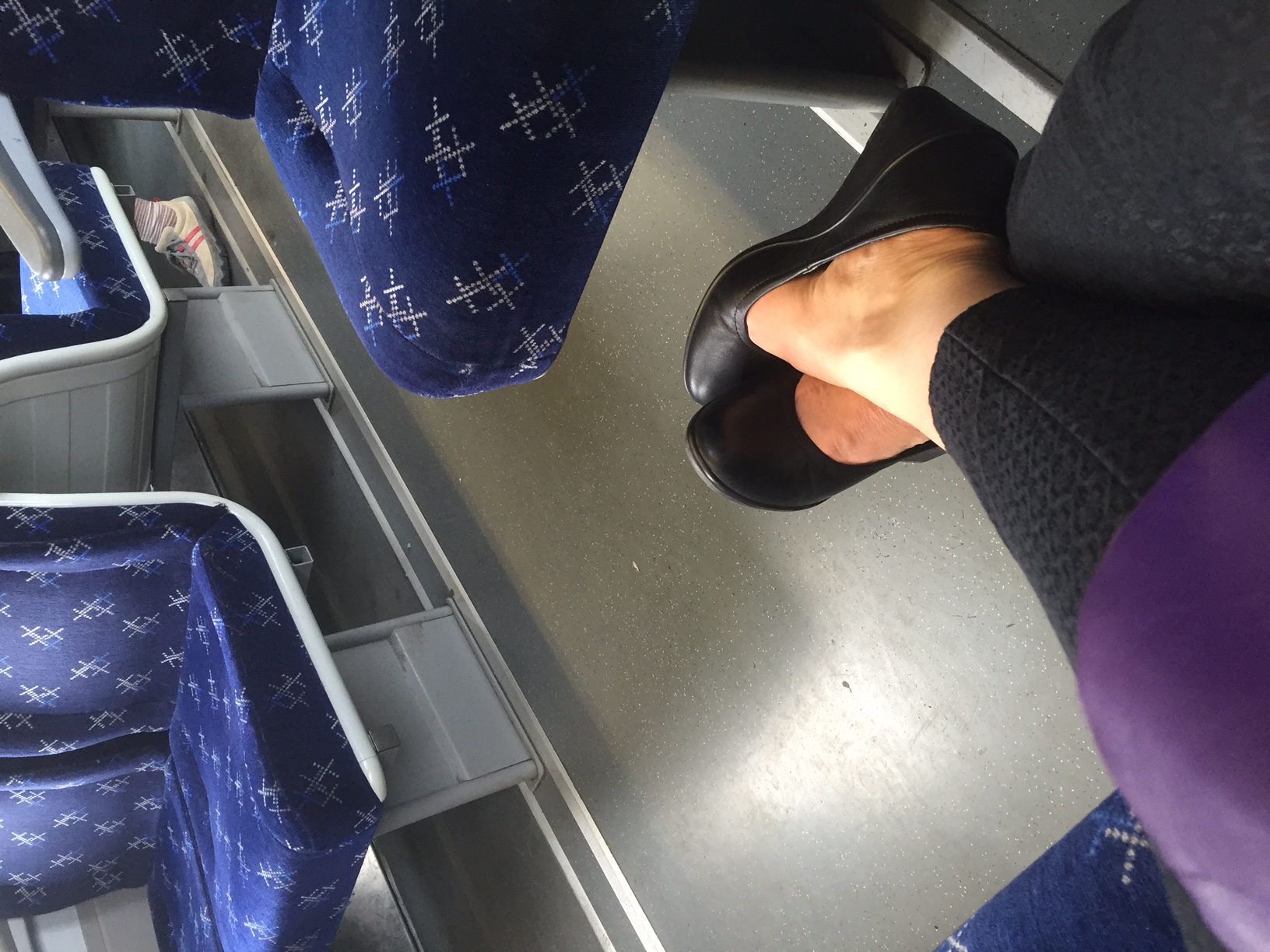 And finally. Not driving a wedge.
This may well be the dullest post I've published, and there is tough competition. Still, I enjoyed it.
What did I learn?
My feet have to feel nice. This trumps looks every day of the week. Evidently.
Trains are a bit grotty.
I've got a bit of a thing about Hotter shoes. All of the shoes come from Hotter apart from the trainers.
While not exactly an investment, good shoes do last. All of these are at least a year old apart from the beigees.
Being able to sprint is part of the shoe picking equation.
I'm quite clearly not a fashionista or even a fashion blogger.