Can you believe that it's more than a month since we started this particular adventure? Back in early March we didn't know what furlough, self-isolation, social distancing and PPE were. Remember? A different country.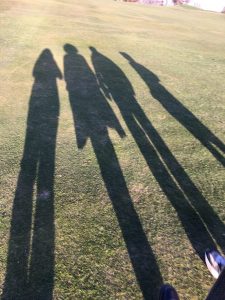 Well, we're lucky to be healthy and adjusting to this life. And the education continues. Here's what I've learned.
Do not sit on a Swiss ball with scissors in your pocket. Let's just say the loss of my new Swiss ball (an investment to counter stay-at-home inactivity) has been a deflating experience. Quickly deflating. I'm very glad no one else witnessed this because it took a few moments to see the funny side from my vantage point on the floor.
Sometimes you have to go with it. Out of boredom, I announced that the Boys would have to step up to the cooker and take their turn at catering. Boy Two was first and apparently miffed at my refusal to let him deep fry everything, he decided on revenge by pizza. It was surprisingly edible.
Golf isn't just a good walk spoiled. It's also a good park made inaccessible. But not at the moment… We've enjoyed jaunts on our local courses in the sunshine, which, remarkably, prevails.
School work is fleeting. How do you teachers do it? Boy Three virtuously sits at his desk each day all shining morning face. Then about six minutes later, just when I'm on Skype to my boss, he appears to scribble me a note. 'All done,' it might say. Or, 'Finished maths and spelling'. And sure enough it appears that what was assigned has been done – haste certainly eclipsing everything else.