Java alongside middle son's favourite footwear
Flip-flops? Nah. I'd love to get on with them, but I can't.


My feet just don't seem to understand what they're supposed to do. In my mind they are supposed to sit prettily on the sole, but actually they slither off to one side or the other. My toes ache and I trip over. 
Walking on the ceiling


But then I discovered that Hotter have made a beautiful thing called Java. It's a flipflop strapped on at the ankle.

I love my new sandals
Java is a lovely thing all buttery-soft leather and molded, springy footbed. The strap keeps feet under control and the chunky sole is flattering to those of us whose feet tend towards the Hobbity. 


Since they arrived, I have worn these chaps almost non-stop, rain or shine. Actually it has been rain or rain. 


You might have thought that perpetual sogginess was a problem when it comes to skipping about in glorified flip-flops. Au contraire. 


In an effect similar to the chopines of 16th centure Venice, Java keeps your feet above the puddles and damp ground.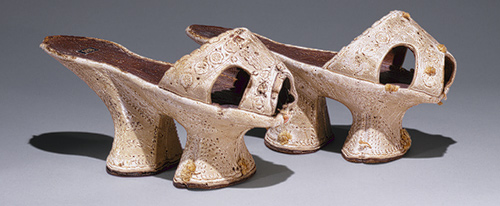 Designed to keep the wearer's feet clean and dry.


I've worn my Javas a lot for the past week and so far so comfy. I can feel the thong between my toes but there is no sensation of rubbing.