Years ago, I had no idea Lego would become such a large part of my life. I'd have laughed if you suggested it. Now, though, it's everywhere – and I don't just mean in the dust bit of the vacuum cleaner. 

Pay attention to first impressions. My first memory of Lego was on a visit to my cousins' house – probably almost 40 years ago. Cousin-Nearest-My-Age was a big Lego fan and I remember him spending ages demonstrating why a motorised Lego piston was a more effective way of knocking over a pile of bricks than just pushing them. Or something. If I had the slightest inkling of how familiar that glazed 'of course I'm paying attention' look would become I may have done things differently. Needless to say the early Lego passion didn't do Cousin-Nearest-My-Age any harm as he's now a very successful hospital consultant. 

The cockroaches won't be alone. Lego appears to be more or less indestructible so when the mushroom cloud goes up, at least the cockroaches will have something to build civilisation anew with.

Anything made of Lego is awesome. This is mysterious when you think about it. After all they are little plastic shapes made in factories that can, presumably, be instructed to make little plastic shapes of any kind. But still, anything made out of Lego is cute and, also, awesome.Coffee machines and microscopes are amazing and sophisticated things but it's guaranteed people will be far more impressed by one made from Lego that doesn't actually make coffee or magnify things. 

It may replicate. Really. Over the years I have given away kilos and kilos of Lego (I'm not kidding). Yet, none of the buckets and boxes full of the stuff appear to get any emptier. I have no idea how this happens. Plus I take every opportunity to suck stray bricks up into the Dyson as it makes a satisfying clatter. 

Pink Lego for girls is an outrage. That's all on that topic. 

The great unsolved Lego question remains unsolved: If Lego is so realistic, why don't Lego people yell when they stand on Lego pieces?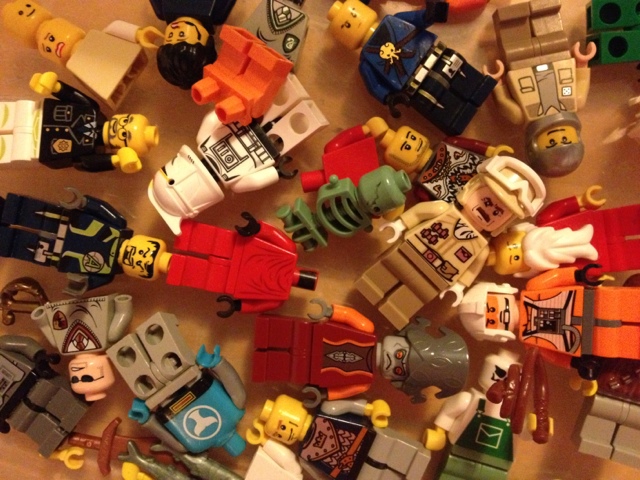 There is nothing that can't be done in Lego. Just when you think there's nothing that can be made out of, in the shape of or generally Lego-ed, then it turns up in Lego. This house has Lego key rings, Lego-shaped ice, Lego cakes, Lego clothes, Lego clocks, Lego lunch boxes, Lego magazines, Lego board games, Lego computer games, Lego Advent calendars, Lego posters and Lego videos. Mechano or Plasticine might be good, but the are miles away. 

Lego spreads like a fungal infection. Just as I might have run a mile from the first innocuous box of Duplo, if I'd seen the future in Cousin-Nearest-My-Age's passion, I have mellowed. Actually, I'd go further than mellowed – I'm really quite a fan. For example, Brick City has come to a city near us and I'm desperate to go – me, not the Boys. And we're all very excited by the new Lego movie.